Bus + Baggage
Full Season, 6 Week, July and Short-Stay 1 Campers
Baggage Depot Location/ Day and Time:
(Toronto area families only; out of towners: bring baggage to buses)
Location: TBD
What Day: On the Tuesday, just before the start of camp
What Time: Available any time between 4 pm and 8 pm.
Buses to Camp:
Thurs. June 30 – Arrive as per the scheduled time
Departure Location: TBD
Returning from Camp end of 1st Period:
1st Period Campers on Bus: Pick Up Location is TBD on Wednesday, July 27 (bus arrives 12:00 pm)
Park at the MOST SOUTHERLY POINT POSSIBLE AS INDICATED ON THE MAP
Pick Up at Camp: Arrive by 11-11:30 and proceed to baseball field as directed by our staff!
6 week Campers: Parent Pick-up at camp: Stay tuned for specific instructions
Full Season Campers: Wednesday, August 17 (bus arrives 11:30 am)
Arrival Location: The Promenade Shopping Centre – SOUTH EAST CORNER OF THE PARKING LOT
2nd Period and Short-Stay 2 Campers
Buses to Camp
Wednesday, July 27th (Arrive 1:15 pm for 1:30 departure
bring Baggage to Buses
Departure Location: TBD (see Map Below for details) or click here for location using Google Maps
Returning from Camp 2nd Period and Full Season Campers:
CAMPERS COME HOME WEDNESDAY, AUGUST 17, (Arrival @ 11:30 am)
Arrival Location: TBD
Please stay clear of our orange cone markers to ensure a safe unloading area:
Baggage: Staff will be unloading baggage near buses in alphabetical order – please be patient!
Weekend Trial
Buses to Camp: (bring Baggage to Buses):
Friday, July 9 (from TBD Arrive 9:15 am for 9:30 departure)
Returning from Camp
Sunday, July 11 (6:15 pm bus arrival at TBD)
General Bus Arrival/Departure Information
Bus departure/arrival location: TBD.
Bring any camper medications, instructions or special items to the Director's car prior to bus departure
No peanut products are allowed on the bus
Campers returning to Toronto by bus will have their baggage on the bus or on a baggage truck; it will be unloaded alphabetically
Please keep cars behind the cones and please check that you have all items with you before departing the parking lot!
If you are changing travel plans for your child, please confirm with us in advance
Out of Town Campers
Depending on your travel plans, we will confirm arrival/departure plans and transportation arrangements; Please consult us in advance to ensure appropriate arrangements can be made Bring baggage to the camper buses on departure dayfrom our end
Bring baggage to the camper buses on departure day
Consider our 'bed-in-a-bag' rental service to limit excessive baggage costs. Contact us for more information
Ensure your child travels with a valid passport; check dates!
Please check with your local travel agent AND carrier about unaccompanied minor/escort services and/or requirements; these services must be arranged/booked and paid for in both directions!

Maps to Buses and Baggage Depot

Baggage Depot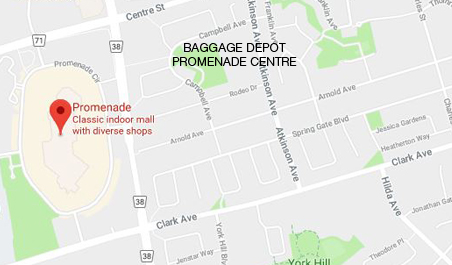 Look for the tall parking lot area markers and find our baggage truck parked at the lot area We will indicate the area in our 'FINAL INSTRUCTIONS' sent early June